Robinson R66 Turbine FAA certification flights (function & reliability) – testimonial by Hansruedi Amrhein
The certification authority FAA gave Robinson Helicopters the opportunity to use two external pilots on their test flights. Robinson Helicopters then carried out a selection process in order to suggest two pilots to the FAA. Hansruedi Amrhein was selected as the test pilot for the function and reliability testing stage carried out at the RHC factory in Torrance.
Hansruedi flew as a pilot on the 9th & 10th August 2010. After successfully completing three hours of theory instruction, a familiarisation flight and a flight test, the FAA granted him approval to carry out the test flights.
Hansruedi persuaded the FAA to be allowed to spend as much time as possible flying at high altitudes and to perform landings in the mountains and away from the airfield, with the ulterior motive of testing the R66 Turbine's performance in terms of its suitability for use in the European Alps.
The objective of one of the flights was a mountain range south of the Big Bear where the highest point was 11,500 feet.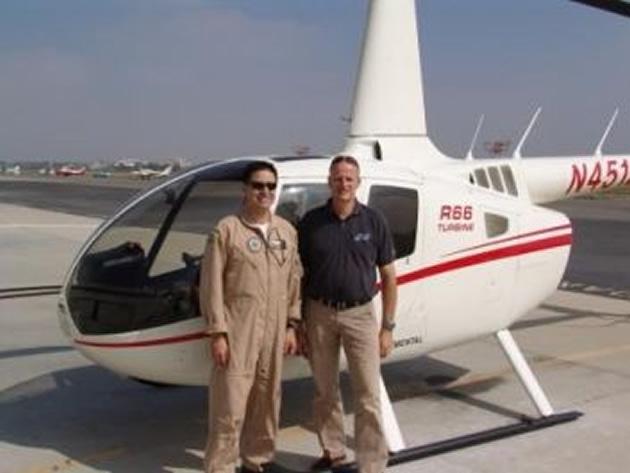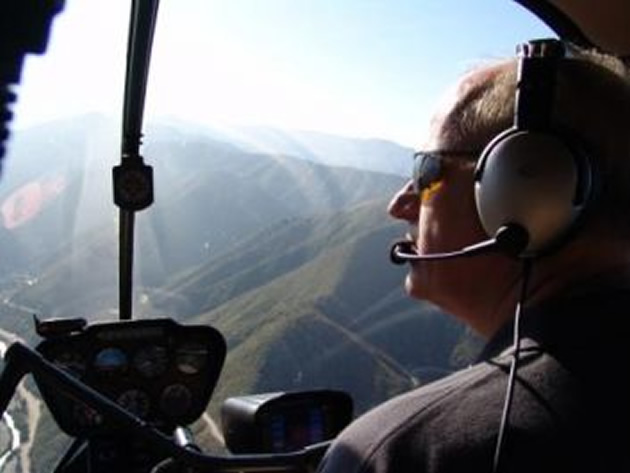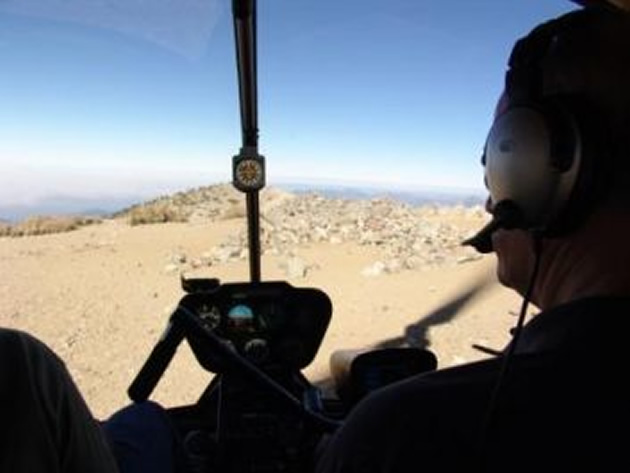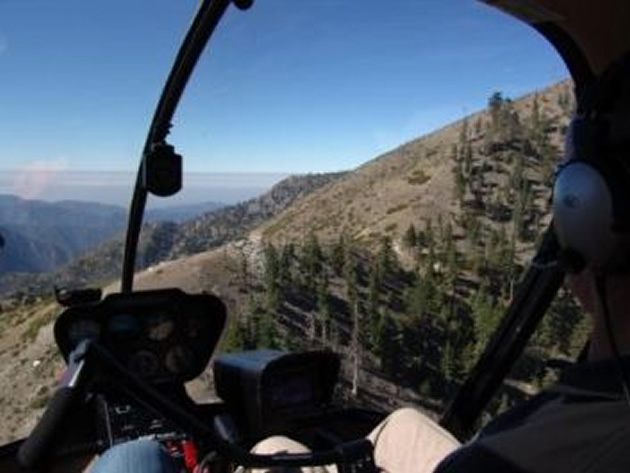 Pilot's report
We take off from Torrance and fly towards Long Beach. With a max. continuous power of 83% torque we fly along the coast at 120 KIAS. As the helicopter has not yet been certified, it is still designated as 'experimental' and it is therefore not possible to fly over populated areas.
Around Laguna Beach, we start the first point in the F&R programme: maximum power flight for 5 minutes. We start at 2,000 feet and increase to 100% torque, keeping the maximum specified speed of 65 KIAS. After climbing for 5 minutes, we get to a height of 10,400 feet.
In 5 minutes, we have climbed 8,400 feet, which means an average of 1,680 feet ascended per minute. In accordance to the F&R schedule, this maximum power check must be flown once every hour during flight.
We are now flying at the height where the first landings are to be carried out. We find a suitable landing site where we can perform the first mountain landing. We land without any problems with 70% torque at 10,500 feet and an outside temperature of 13°C, yielding a density altitude of 12,800 feet or 3,900 metres above sea level.
We hover in ground effect and apply 100% torque. We ascend vertically 1,000 feet into the skies. (3 people and 2 hours of fuel reserve on board) with MGT 760°C.
We carry out a range of different manoeuvres at this altitude. The helicopter's performance meets all expectations!
A second flight headed towards Mount Baldy at 10,064 feet.
Hansruedi's notes for this flight
Outside temperatures of 12°C results in a density altitude of 12,100 feet or 3,690 metres above sea level.
It is well-known that Robinson helicopters are all equipped with a very good tail rotor. Now I will test whether the R66 Turbine's tail rotor also satisfies expectations by testing it at 3,690 metres above sea level, with 3 people and 2 hours of fuel reserve on board in winds of approximately 5 knots.
180° and 360° pedal turns to the left, 180° and 360° pedal turns to the right and the helicopter can be stopped easily every time. The tail rotor's performance is very impressive.
Hansruedi Amrhein's conclusion after 8 hours of flying
The R66 Turbine is a helicopter that performs excellently. When fully loaded, the cruising speed is around 115-120 KIAS. Its superb performance at altitude is also very impressive, featuring a very efficient tail rotor, a very important safety aspect when operating in the mountains in particular.
R66 Turbine Basic Specifications
Number of Seats: 5
Approx. Basic Empty Weight: 1280 lb
Maximum Gross Weight: 2700 lb
Usable Fuel Capacity: 73.6 gal (493 lb)
Powerplant: Rolls-Royce 250-C300/A1
Engine Ratings:
Rolls-Royce 5 Minute Takeoff: 300 hp at 6016 rpm
Rolls-Royce Continuous: 240 hp at 6016 rpm
Robinson 5 Minute Takeoff Rating: 270 hp at 6016 rpm
Robinson Max Continuous Rating: 224 hp at 6016 rpm
The price-performance ratio of the Robinson R66 Turbine is just right, as we have come to expect from Robinson products. And of course, as an official Robinson dealer for Switzerland, you can also order this model from us.
Do you want to find out more? Call us up and talk to Hansruedi Amrhein about his experiences with the Robinson R66 Turbine.
Sitterdorf, 18.08.2010